Announcing a challenge to all this week – entries due by Saturday, April 25th. Submissions may be a video, or a snapshot with a caption, or in writing  that you email to me at the church (phughes@holycrosslutheran-salem.org). 
Here's the challenge – How do you recognize that Christ is with you? or said another way – How do you know you are not alone in these unusual and frightening times?  Tell us!  Is it your lifelong faith, built brick by brick throughout time, is it the evidence of Christ's love in the spring flowers you see? How do you recognize that Christ is with you?  Get busy and send those entries in!
to think about while you're working on your challenge – 
The Lord be with you – and also with you! We say that a lot in the church where I am pastor. Because knowing that the Lord (Jesus – the one who is watching over us) is with us is tremendously comforting!
The Gospel for this week, is Luke 24 https://bible.oremus.org/?ql=454396332
It's the account of two men walking along the road away from Jerusalem, after Jesus' death and resurrection (though they are really not sure there was a resurrection). Jesus walks with them, and 'opens the scriptures to them' as they walk.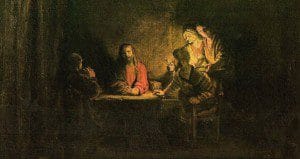 And finally, they recognize that it is Jesus! As they break bread together – they know it is him! Perhaps it is the direct connection to that Last Supper, perhaps it is just the knowledge that Jesus is all about feeding us. Whatever – they recognize him, and are so excited by that moment that they run the 7 miles back from Emmaus to Jerusalem.
So the question is, How do you recognize Jesus is with you?
I'll be interested to see your responses this week – get busy – Pastor P+