Confirmation for 2019-2020!
Pentecost, Sunday, May 31, 2020 – We celebrated at both Holy Cross and Peace as our students Affirmed their Baptism!
At Holy Cross we celebrated our three students during our drive through Communion!  Because of social distancing we found a creative way to honor Clay Nyquest, Chloe Elmore and Cole Elmore!  Congratulations Clay, Chloe and Cole!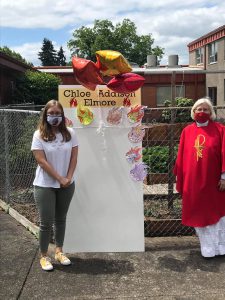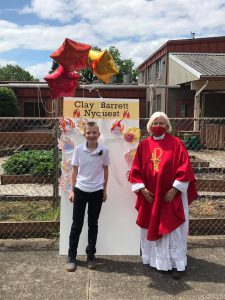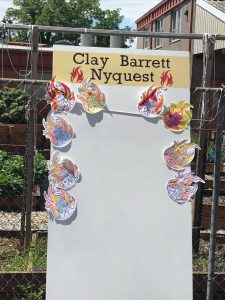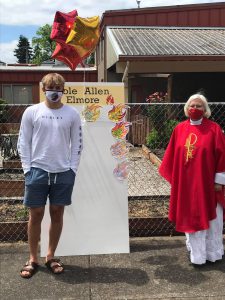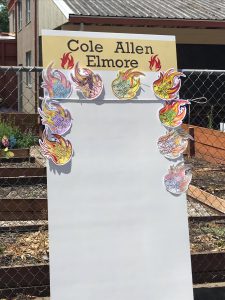 A Church shows their young people how much God loves them through offering them opportunities to learn and grow. Confirmation is a longstanding practice especially in Lutheran churches, where we spend two years together with kids aged 6th grade thru high school, to learn about God in a "grown up" way – one that fulfills the promises made at our baptism, by our parents and sponsors. Lately, we tend to call this class "Affirmation of Baptism" and it features a special worship service after the two years are completed, where the congregation all celebrate the "growing in faith" of their young people. Our confirmation class at Holy cross is looking like a big one this year – five kids so far, and more possible. Won't you join us? Call Pastor Patricia+ for more information.  We meet one Sunday afternoon a month. Older people who want to experience confirmation can be part of the program, too. Let's talk!Below is the schedule for fall 2018. Check back for updates to the schedule.
This group is made up of young people from Peace Lutheran and Holy Cross Lutheran in Salem, Oregon. We vary in age from 6th grade through 12th grade. We meet once a month for an hour and a half and have some assignments outside of class.