August 2017 Highlights



Weekly recurring Schedule
Office Open M-F 9 am–1 pm
Sundays
9:30 am Worship
4 pm Fountain of Living Waters Worship
Mondays
7:30 pm Thorsmen Choir
8 pm Zumba Class
Tuesdays
9 am Tuesday Crew (Volunteer Maintenance)
10 am 4th Tuesday Volunteers (on 4th Tuesday)
12 pm Faith in Action (1st Tuesday)
7 pm Fountain of Living Waters Worship
Wednesdays
9 am Rosemallers meet
11 am Pastors meet
8 pm Zumba Class
Thursdays
11–12 pm Coffee in the Little House
12 noon—Verse by Verse Bible Study
1 pm Prayer Shawl (1st Thursday of the month)
6:30 Council (Third Thursday)
7:30 pm AA meeting in the library
8 pm Zumba Class
Fridays
7:30 pm Fountain of Living Waters Worship
Saturdays
10 am Zumba
11 am Fountain of Living Waters worship

AAAAAAAAAAAAAAAAAAAAAAAAAAAAAAAAAAAAAAAAAAAAAAAAAAAAAAAAAAAAAAAAAA
IMPORTANT INFORMATION
Starting September 1st, the newsletter will now be published electronically.
This will be the last newsletter to go out. Please give the office your email address so we can get you in the system.
There will be a paper copy available for those who do not email, but we will have a limited supply. Talk to the office for more information 503-364-6041.
Since we are undergoing a large transition, please let the office know if you are not receiving a weekly blast electronically or by mail. Thank you!



BBBBBBBBBBBBBBBBBBBBBBBBBBBBBBBBBBBBBBBBBBBBBBBBBBBBBBBBBBBBB


Pastor Patricia will be out of town August 1st-7th. Pastor Karl Hester will be covering while she is out.

If you need Pastoral care, please call Christ the Good Shepherd 503-363-3726 or 503-953-5164.

Pastor Jim Bornzin will be presiding August 6th.
CCCCCCCCCCCCCCCCCCCCCCCCCCCCCCCCCCCCCCCCCCCCCCCCCCCCCCCCCCCCCCCCCCCCCCCCCCCC
Thrivent Congregational Advocate News

Helping Thrivent members be "Wise with Money" with the Thrivent Federal Credit Union
More than 45,000 Christians across the nation have the tools to save more, spend less and give abundantly thanks to Thrivent Federal Credit Union (TFCU). With competitive rates, personalized service and financial guidance based on biblical principles, you can feel the power of contentment.

Here are a few opportunities you may want to share with the members of your church.

College
cuLearn's Connect Program offers scholarships & tips on paying for college: The program is designed to support students, parents, and learners who share one common concern. How will we pay for college?

The program provides:
· Scholarship opportunities.
· Educational articles about how to pay for college.
· Tips for being wise with money during the college years.
· Helpful reminders of the steps to take and when to take them.
Fun and useful tools to help with college funding needs.
To connect those in your congregation to this program in your church have those interested go to culearn.com/connect

Mortgage
For a limited time, get a mortgage on a new home from TFCU and you can choose between the following special offers:
· Save $500 in closing costs; OR
Donate $1,000 to a charity of your choice (any 501(c)(3) is eligible – including churches!)
When you finance your new home purchase with TFCU, you'll get access to competitive rates, top-notch service and exclusive banking tools.



DDDDDDDDDDDDDDDDDDDDDDDDDDDDDDDDDDDDDDDDDDDDDDDDDDDDDDDDDDDDDDDDDDDDDDDD
Thank you volunteers!
Thank you to those who helped with Interfaith Hospitality Network in July.
We had 4 families total, but one was able to find an apartment during the week!
We could not host families without your help.
We will be hosting again in October.
Keep an eye out for a sign up to help. Thank you!

EEEEEEEEEEEEEEEEEEEEEEEEEEEEEEEEEEEEEEEEEEEEEEEEEEEEEEEEEEEEEEEEEEEEEEEEEEEEEEEEEEE
Confirmation Conversations
Summer is flying by for us all.
I hope your family is enjoying a lot of good family time.
Young people need a way to transition from being 'children' in our church to just being 'part' of our church - 'members' if you will. Over the history of Christian churches, all the way back to Luther in 1517 that has changed, and adapted.
Here at Holy Cross, we have been bringing kids into worship and education in new ways. This communication is addressed to folks whose kids are entering 6th grade this year, or higher, who have not yet been confirmed. Some kids are ready for this next step (confirmation) at 6th grade, and some might do well to wait a year. I have found that young people are so involved with activities by 9th grade that it is hard to 'squeeze in' a Confirmation piece. Confirmation (now often called Affirmation of Baptism) is one way youth are integrated into the life of the church, create new peer groups and draw nearer to God.
I would like to pull together a group of these parents and kids who meet this age group, to talk about what choices we might make for confirmation going forward. Can we meet Sunday, August 13th, after church in the library for less than 30 minutes to discuss possibilities? Let me know by email phughes@holycrosslutheran-salem.org or by phone 503-364-6041 if you can make this meeting, or if you can't.
Thanks for loving your young people, and your church,
Pastor Patricia+
FFFFFFFFFFFFFFFFFFFFFFFFFFFFFFFFFFFFFFFFFFFFFFFFFFFFFFFFFFFFFFFFFFFFFFFFFFFFFFFFFFFFFFFFFFFFFFF
Presidents Article
August 2017
Dear Holy Cross family. We are nearing closing on the sale of the Infant House. There were a few minor issues to be completed for the funding of the mortgage for the purchaser but those will be completed by end of July and we will be on track to sign off in early August. This has been a long and emotional process for many of the members of our family. We each had dreams of how we believed things should happen for the house and this is where the holy spirit has led us. This sale will relieve us of many of our obligations and provide some capital to invest back into the remaining buildings, particularly the main church building. As we move forward in making decisions about what to address please feel free to contact myself or other council members to express your ideas.
I am looking forward to being a part of the next extended coffee hour to hear more directly about 1:1 conversations and where Holy Cross has brought you from and your vision of where Holy Cross might direct its ministry and function at the corner of Lansing and Sunnyview in Salem (Shalom) Oregon.
I was privileged to participate in a bus tour of some of Salem's history with a focus on the ministry of CaN Centers. Sam Skillern the director of Salem Leadership Foundation led the tour and highlighted some significant facts about our SHALOM (aka Salem) community. One story involved a Immaculata at the priory for St Joseph's Parish pulling a shot gun on some dignitaries in long white garments planting a cross in her garden and telling them to take it away. Salem and Oregon has a history of not being a welcoming community with laws of exclusion that have only recently (within the last 15 years) been revoked. I believe Holy Cross is moving forward with inclusion in many ways, the most recent and apparent is the new sign posted beside the reader board that says:
NO MATTER WHERE YOU ARE FROM WE ARE GLAD YOU'RE OUR NEIGHBOR. Check out the picture of council behind it on Facebook.
I was thinking about the Neighborhood that Holy Cross is in and realizing most of our family live in other neighborhoods in Salem. This reflects the times, families of all sorts move and relocate but there is always home. Holy Cross is our home, the place we come together to nurture ourselves and each other and to spread our ministry of caring to those who do live near the church to be warmer, or see a friendly face to help them learn to read or prepare a garden. We do many things in the area around Holy Cross and will continue to do so with prayer and support from all of us.
Yours in Christ, Karen Halvorson
GGGGGGGGGGGGGGGGGGGGGGGGGGGGGGGGGGGGGGGGGGGGGGGGGGGGGGGGGGG
You're invited!!!
The youth that went on the mission trip, would like to share stories (and lots of pictures) with you!
To thank you for your prayers and support, we are hosting a dessert August 15th 6 pm at Christ the Good Shepherd Lutheran Church.
Come hear our stories and see what God has done in the city of Lapwai.
We look forward to seeing you!

HHHHHHHHHHHHHHHHHHHHHHHHHHHHHHHHHHHHHHHHHHHHHHHHHHHHHHHHHHHHHHH
The Youth are back from the Mission trip to Lapwai Idaho!
They would like to thank each and every one of you for praying for us and supporting us so we could share Gods love with the city of Lapwai.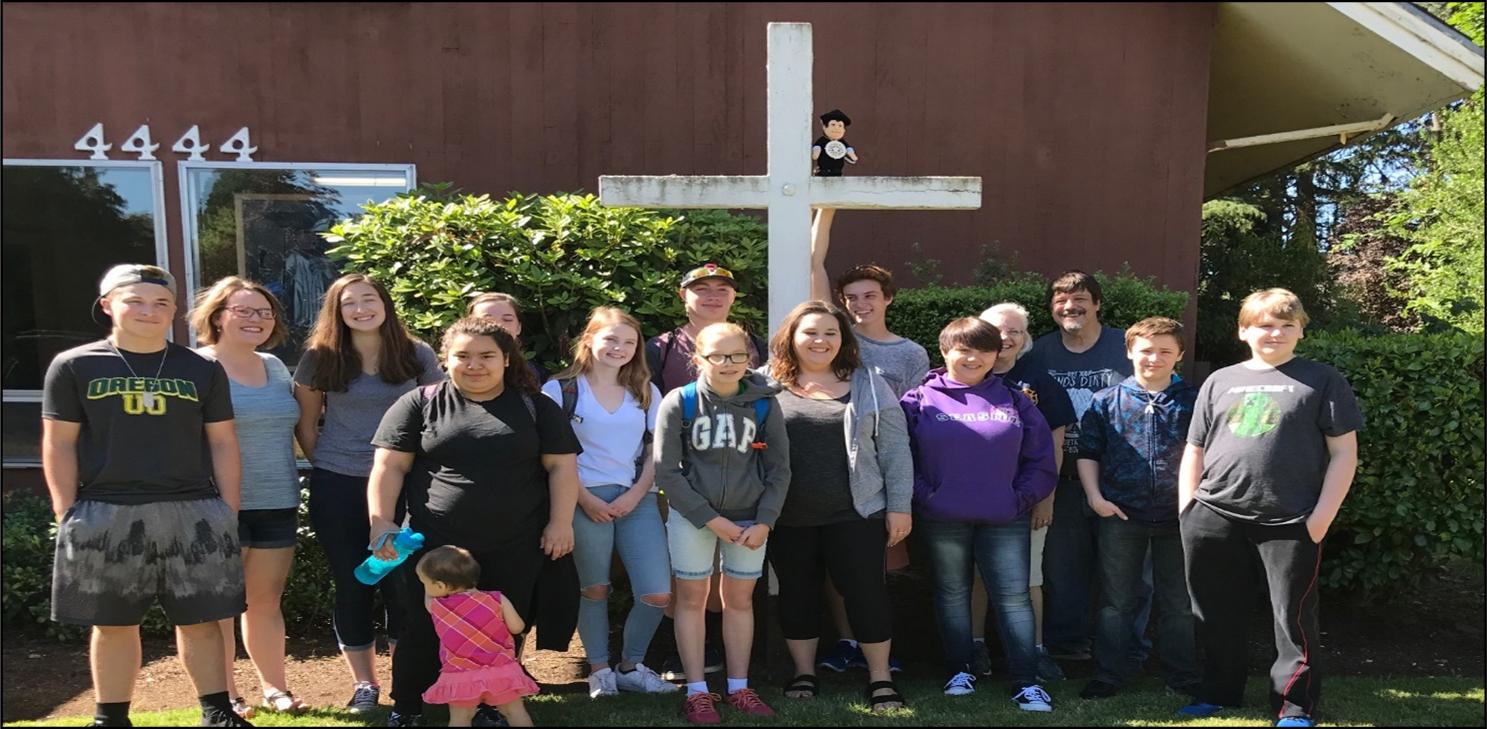 The group going on the trip (with small child sending us off). Please notice the plush
Martin Luther on the cross. You'll be seeing a lot him in our group pictures.
From Teddy Biggs: Thank you for all your support and fundraising. We are going to make good use of this experience.
From Josh Cox: Thank you for supporting this trip so we can have a good time.
From Matt Cox: Thank you for fundraising this trip so we can make wonderful memories.
From Zach Elms: I am so blessed that I got the opportunity to go to the Nez Perce Indian Reservation and I can't thank everyone enough.
From Kelsey Hallin: Thank you for your continued prayers and support for the youth and leaders. I always love to watch our youth grow and experience new things with them.
From Pastor Karl Hester: Such a blessing to be going on this trip, letting God interrupt our usual schedules to help us live more deeply into our baptisms. Your many generous ways of supporting youth ministry here at CGSLC are ways in which you live our promises we made around the font. Thank you.
From Pastor Patricia Hughes: Adventure is out there! Thankful today for those on the trip and those praying for us at home.
From Kate MacLean: Thank you for all the support you've provided us.
From Savannah Noel: Thank you so much for everything you've done for us. God bless.
From Natalie Nyquest: Thank you for helping us be prepared for our wonderful journey.
From Ashley Smith: Thank you so much for supporting us and believing in us.
From Sarah Tolleson: Thank you for your support with fundraising and prayers throughout the trip. It is a blessing to have two churches that love and care for our youth.
From Xóchitl Vega: Thank you for all the prayers and support for the mission trip and helping fund this trip to help in Lapwai.
From Joey Wooten: Thank you very much for praying for us on this adventure!

IIIIIIIIIIIIIIIIIIIIIIIIIIIIIIIIIIIIIIIIIIIIIIIIIIIIIIIIIIIIIIIIIIIIIIIIIIIIIIIIIIIIIIIIIIIIIIIIIIIIIIIIIII




JJJJJJJJJJJJJJJJJJJJJJJJJJJJJJJJJJJJJJJJJJJJJJJJJJJJJJJJJJJJJJJJJJJJJJJJJJJJJJJJJJJJJJJJJJJJJJJJJJJJJJJ
LLLLLLLLLLLLLLLLLLLLLLLLLLLLLLLLLLLLLLLLLLLLLLLLLLLLLLLLLLLLLLLLLLLLLLLLLLLLLLLLLLLLLLL