I've been recuperating from my total knee replacement which took place on February 13th. There have been surprises – 1) how slowly my energy level is returning 2) the pervasiveness of pain (!) and 3) how restorative greetings can be. 
The picture on this blog is a group of get well cards I have received in the last ten days. I have been so touched by the kind expressions of care that have arrived – cards, flowers, food, and good wishes. I have noticed two things (at least) – how light it makes me feel when someone shows they care, and how much these greetings remind me of God's love.
The "Christian" greeting card industry will never flourish thanks to my purchases. I have not felt drawn to them. "Heavy-handed" is probably how I have described them. But that's not fair. Surely some are heavy handed, true, and seem to hit us with the hammer of "God says to Love Him and Each Other – Get Busy, Will You?".  But I may put that prejudice aside now. Because, it seems to me that God honors our impulses to show our care. Each encouraging text, facebook post, card, etc., felt to me like God's 'pixie dust' of care. Well, I'm certainly going to theological detention for that last phrase! But, truly, the kindness shown to me through these get well moments feels completely connected to God's love .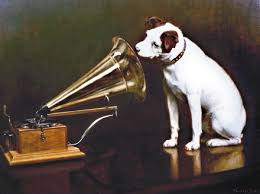 Amplification. That's what I have experienced with these reminders – cards, texts, etc.  LIke the famous RCA advertisement – his master's voice – there is something amazing about amplification. Amplification gets our attention, even when we are busy being distracted by the silly things we think are important.
So, I am thanking you all today for the amplification, and encouraging us all at the same time. A kind gesture, word, or card is an opportunity. Let us take that opportunity to show God's love where we can – and benefit from its amplification in our own lives.
Church at Holy Cross Lutheran today, Sunday February 24th, is at 9:30 am. Our friend Manuel Borbon will be preaching and presiding. I know you will enjoy what he has to say, and be blessed by sharing Holy Communion together. I'm going to be back half time at the end of this week, and am looking forward to beginning our Lenten Journey together. Holy Cross is at 1998 Lansing Ave NE, Salem, OR 97301  www.holycrosslutheran-salem.net  503 364-6041.  Bless you all – Pastor Patricia+